Whether you're looking for family-friendly activities or a unique date night, there's an event in Inver Grove Heights and the Twin Cities for you.  Parades, art, food, classic cars, and more: here's a roundup of events in Inver Grove Heights, Minneapolis, and St. Paul to add to your 2019 calendar for a summer's worth of fun. Traveling in from out of town? With an ideal location, Inver Grove Heights hotels are some of the most affordable hotels in the metro.
June 14-15, 2019
Night owls will appreciate the two-night arts festival that runs from sunset to 2:00 a.m. Three locations in Minneapolis and St. Paul will host temporary art installations, giant video projections, and experimental performances.  Food trucks will also be on hand.
June 12, July 10, and August 14, 2019
IGH Food Truck Days provides attendees a chance to sample meals and treats from a variety of food trucks.  The event is held in the Community Center Parking Lot at 8055 Barbara Avenue.
June 20-22, 2019
The largest free, live jazz festival in the Midwest is held in and around Mears Park in Lowertown St. Paul, as well as 15 other St. Paul venues.  All performances are free and open to the public, with acts including nationally renowned headliners and a diverse range of local artists.
June 21-23, 2019
The Minnesota Street Rod Association (MRSA) will be hosting its annual celebration of classic cars, with over 12,000 vehicles dating from 1964 and earlier.  The weekend's festivities at Minnesota State Fairgrounds will also include live music, a craft fair, swap meet, kids' activities, and more. It's a must-see event!
July 6-7, 2019
Inspired by the night markets of Southeast Asia, St. Paul's Little Mekong Night Market is a street festival featuring food, performances, unique products, and arts and crafts that represent the neighborhood's diverse Asian cultures.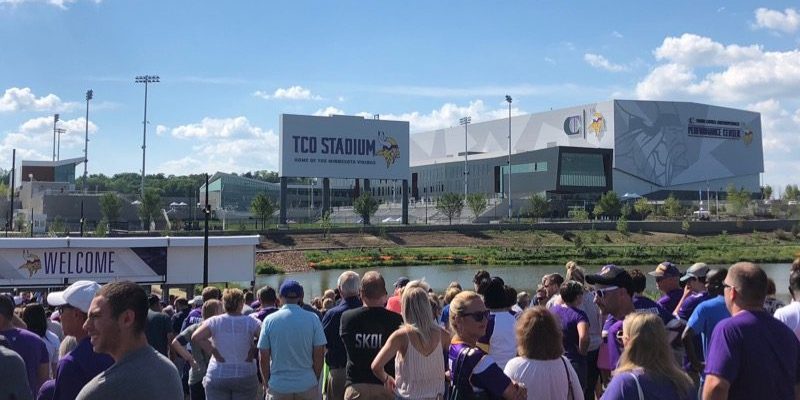 July 26-August 16
Get your first look at the 2019 Minnesota Vikings at Training Camp in Eagan. This marks the second year Training Camp is being hosted at Vikings Headquarters and 59th Training Camp overall. Only a few miles from TCO Stadium, Inver Grove Heights is a great option for places to eat and things to do. Tip: check out our patios–from rooftop to river views. 
August 9-11, 2019
Celebrate Irish music, dancing, food, and culture on the bank of the Mississippi River in St. Paul.  The free event is one of the most authentic Irish festivals in the country and offers family- friendly activities like mini golf as well as a Celtic marketplace with artisan goods.
August 17, 2019
Sample over 400 craft beers from more than 130 different regional and national breweries at CHS Field in Lowertown St. Paul.  There will also be live music, entertainment, activities, and ballpark eats.
Minnesota Renaissance Festival
August 17-September 29, 2019
Step into a bygone era at the Minnesota Renaissance Festival in Shakopee.  The recreated 16th-century European village offers 16 stages with live entertainment, a marketplace with over 250 artisans, and live armored jousting. 
August 22-September 2, 2019
Live music, parades, exhibits, carnival rides, baby farm animals, deep-fried food on a stick—the Great Minnesota Get-Together truly offers something for everyone. Located halfway between Minneapolis and St. Paul, the Minnesota State Fair attracts more than two million attendees over its 12-day run. 
September 5-8, 2019
Inver Grove Heights Days is a weekend of fun for all ages, with events including a treasure hunt, bingo tent, and discounted bowling at Drkula's 32 Bowl.  For kids, there's a family fun night with giant inflatables and carnival games, plus a children's treasure hunt for ages 1-12. Other highlights include a parade, fireworks, and community bike ride along the Mississippi River.
If you're attending an event in Inver Grove Heights, Minneapolis, or St. Paul, Inver Grove Heights hotels offer comfortable and convenient accommodations with complimentary breakfast, free WiFi, and parking.  Book your stay at Inver Grove Heights hotels today!