Take a golf course.  Add a soccer ball.  What happens next?  If your answer is disgruntled golfers waving their driver in the air while they chase a lost soccer team off the course, you are mistaken.  The actual answer is FootGolf, a new sport that in the simplest terms is golf played by kicking a soccer ball instead of using a golf ball and clubs.  As you can guess the name is a marriage of football (as in soccer, not American football) and golf.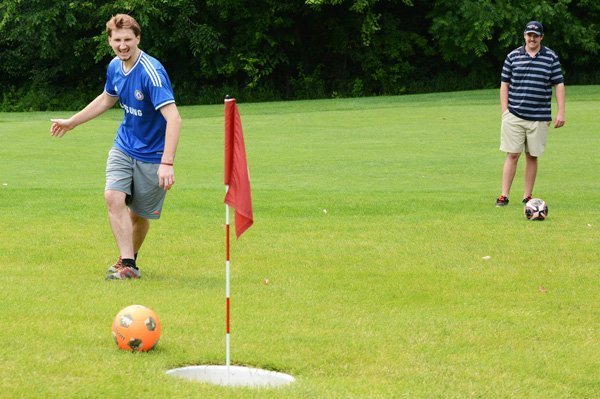 Foot Golf Inverwood. Photo Star Tribune
FootGolf's popularity is growing at a breakneck pace.  According to FootGolf Minnesota's website, the first 9 hole FootGolf tournament was held in 2009 in Holland.  The AFGL (American FootGolf League) was founded in Palm Spring, CA in 2011 and there are now nearly 500 courses in the United States, including 21 in Minnesota.  The rapid growth in the game's popularity speaks to the fact that it is an entertaining, yet challenging game anyone can play.
If you are looking for a new way to get outside and get active with friends or family, head out to Inver Wood Golf Course and give this sport a try on their beautiful 18 hole FootGolf course.  And if you are in search of something different for your company's next team building activity this is a great way to engage everyone in a little friendly competition in a laid back environment.  FootGolf Minnesota offers a useful infographic with the basic rules of the game to get you started.
Ready to test your skills against others? FootGolf Minnesota's 2016 Tour will be hosting their next event at Inver Wood on July 31st.
Don't let this summer pass you by without testing your FootGolf skills.  This might be your new favorite pastime!